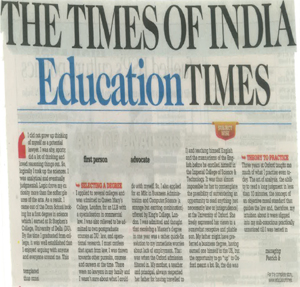 News & Media
Mr. Amir Singh Pasrich, a member on the Council of the Legal Practice Division of the International Bar Association (2015-16) attended the IBA 2016 Annual Conference held from 18-23 September 2016 at Washington DC… read more
Mr. Amir Singh Pasrich chaired the session on "The New-Age-in House Counsel's approach to Litigation" at this year's GENNEXT COUNSEL CONGRESS & AWARDS 2016 held in Mumbai, India, from 3rd – 5th March 2016 organized by Legal Era… read more
ILA members have authored the 2010-12 Real Estate India, Product Liability and Product Recall Reports for Getting the Deal Through and the 2012 India Real Estate Review as also the International Distribution Institute report on Agency. Two members received appreciation certificates from the World Bank in 2012.
ILA Pasrich & Company has been recognized and recommended by various publications for the profound expertise and the talented attorneys. The firm has been rated as one of the top 10 Highly Regarded Regional Players for General Business Law and Amir Singh Pasrich as a leading individual for Corporate/M&A. There are also multiple recommendations from legal publications of the firm's lawyers including reference by the Who's Who Legal in the years 2009, 2010 and 2011.
---
Mr. Amir Singh Pasrich is an active member with the International Bar Association and he is regularly invited to chair the sessions and speak during the Annual Conferences. He has been the:
Session Co-chair at the 2013 Boston IBA Conference for the session, Chasing the seller: cross border product sale risks, warranties, implied terms, contract enforcement and more.
Speaker at the 2013 Boston IBA Conference for the session, International business aspects – Legal parameters for evaluating and managing risks in new markets.
Session Co-chair at the 2013 Boston IBA Conference for the session, Public procurement – Probity and compliance in procurement.
Speaker at the 2008 Buenos Aires IBA Conference for the session, Distribution and licensing in Latin America and Asia.
Speaker at the 2005 Prague IBA Conference for the session on Distribution strategies and antitrust.
Chaired the session, Act Before it's too late. Protection of sellers right when the buyer is threatened with insolvency at the 2003 San Francisco IBA Conference.
Speaker at the session Won't it stick?. Unenforceable contracts at the 2002 Durban South Africa IBA Conference.
Speaker at the session, Connected Contracts at the 2001 Cancun IBA Conference.
Amir Singh Pasrich, the firm's Managing Partner attended the Brussels Mid-Year Officers' meeting of the International Bar Association as the sole representative from India in the International Bar Association Council representing the Society of Indian Law Firms.
He also attended a Paris meeting of the Chamber of Commerce and Industry France India to assist in the framing of its rules of arbitration.